EVERYTHING YOU WANTED TO KNOW ABOUT FUSING.....BUT HAD NO ONE TO ASK
IS THE MOST COMPREHENSIVE BEGINNERS MANUAL ON FUSING AND SLUMPING TO DATE
---
ENDORSEMENTS:
CANYON STUDIOS, COPPER CANYON, TX.
"Thank you very much for the incredibly informative "EVERYTHING YOU WANTED TO KNOW ABOUT FUSING...BUT HAD NO ONE TO ASK". We are fascinated with the quality of instruction provided by this book and will keep your information close at hand. Thank you."
PUERTO RICO
Hello: I'm writing because I bought your Wonderful Book(Everything you wanted to know about fusing) and I consider that there is not a book like yours that explain step by step everything you need to know in glass fusing. I'm from P.R. and don't speak english correctly and I understand very clear all the chapters as it was in spanish. Thank you! Carmen Pomales
---
HUNDREDS OF TIPS - -
168 PAGES - -
19 CHAPTERS - -
FIRING SCHEDULES FROM EVERY COMPATIBLE GLASS COMPANY
SETTING UP YOUR STUDIO
♦Lighting
♦Cutting Area
♦Ventilation
♦Kiln Area
♦Mold Ares
♦Plus a list of all the tools you need or want with pictures
STAINLESS STEEL AND CERAMIC MOLDS

♦Choosing your mold
♦Preparation
♦Measuring glass for the mold
SCORING YOUR GLASS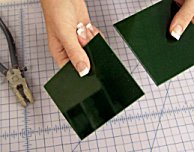 ♦Shortcuts on how to score
♦How to score curves/circles with & without a circle cutter
♦How to do straight cuts
♦How to cut with a saw
♦How to break out your glass
KILNS & FIRING SCHEDULES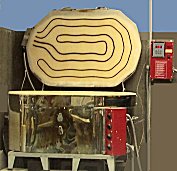 ♦Electric
♦Ventilation
♦Controllers
♦Infinite Switches
Including Firing Schedules from every compatible glass company
Plus 19 chapters including preparing your glass for slumping, design work, "What Went Wrong?", Glossary and a schedule chart for your own work with hundreds of tips and pictures.
THIS BOOK REALLY HAS "EVERYTHING YOU WANTED TO KNOW ABOUT FUSING..."
HEAR WHAT THE TEACHERS HAVE TO SAY:
It's unusual format and large print makes it easy to follow as you are working on your project...
This book's wonderful design makes flipping the pages easy while following the instructions
This book is a wonderful instructional guide for my classes...The pictures are worth a thousand words

..

NEW FORMAT...NEW PRICE
Our beginners manual now has a ' "hard" soft cover' allowing us to reduce the price 25%.

TO PUCHASE THIS BOOK AT $39.95 CLICK HERE